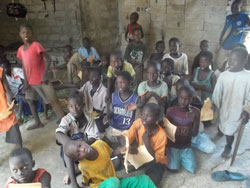 According to a recent report by UNICEF, the United Nations Children's Fund, there are up to 100,000 child beggars in Senegal. Traditionally, families contracted with Marabouts (teachers) to raise their children and provide them with an education. In exchange for this education, the families would provide compensation or gifts to the Marabouts, and the children would be engaged in farming or other enterprises to support the Marabouts. Today, more and more Marabouts take children out of the desert villages and bring them into the cities, where the Marabouts can make a better living.
Nine out of ten Talibes (students) are from the villages, and 85% are from the poorest families. A single Marabout may have between twenty and several hundred Talibes in his "care", depending on his reputation. Talibes often live in appalling conditions, where hunger, thirst, and disease are rampant. During the daytime, the Marabouts send the Talibes out into the streets to beg. They are readily recognizable throughout the streets, for the rags that they wear and the tomato paste cans that hang around their necks.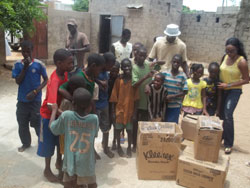 Many Marabouts require that their Talibes meet a certain quota for the day, and if the Talibes do not meet their quota, they may be severely beaten. Although the Talibes do receive a minimal education, this education is insufficient to enable them to find employment as adults and to become productive members of society. The result is that they usually become either unemployed homeless adults or adult disciples of the Marabouts. Our organization is aware that there are few (if any) opportunities to actually obtain custody of Talibes and essentially take them away from their Marabouts because they are "owned" by the Marabouts. Rather, The Forgotten Children evaluates opportunities to provide some level of care or assistance for Talibes. This may be done through a daytime shelter, which could provide a variety of services including showers, health care, vaccinations, recreational activities, and simple skills training.
Help Us Help
We are already building but need to continue to build and support the Forgotten Children